Ella, Sri Lanka is a rather small town which belongs to Badulla District. The Ella mountains are located 3,415 feet (1.04 km) above sea level which makes the place cooler than the surrounding areas. Ella town is located 200 kilometers far east from Colombo.
As an outlander, when you search about the ideal places to travel in Sri Lanka, Ella is probably suggested at the top of the search results. But why Sri Lanka? On top of that why Ella? Why does everybody who visit Sri Lanka hasten to Ella as soon as they have arrived?
Keeping that question unanswered for now, I will tell you that I am proud to say that I have visited Ella more than 3 times and went for Ella Rock climbing twice. Therefore, I have more than enough first-hand experiences to share my journey as a local visitor. But I must reassure you that, If you take my advice and venture this place you wouldn't regret it.
Back in 2016 I travelled to Ella for the first time with my friends. One of them practically acted as our tour guide because he had a lot of experience travelling to Ella when he was studying at the Sabaragamuwa University. Ella wasn't that evolved at that time, nor the locals' visits were that often. But it was clear that in the near future Ella would be turned around completely. It had this amazing vibe which attracts both locals and foreigners with their tiny shops and restaurants.
But now, Ella resembles a whole other country located inside Sri Lanka. Because Ella is a small area, it is quite easy to cover all of its famous and favorite tourist attractions in a small amount of time. Below listed are the best among those incredible destinations and their pros and cons. I'll be leaving some tips that might come in handy for your journey as well.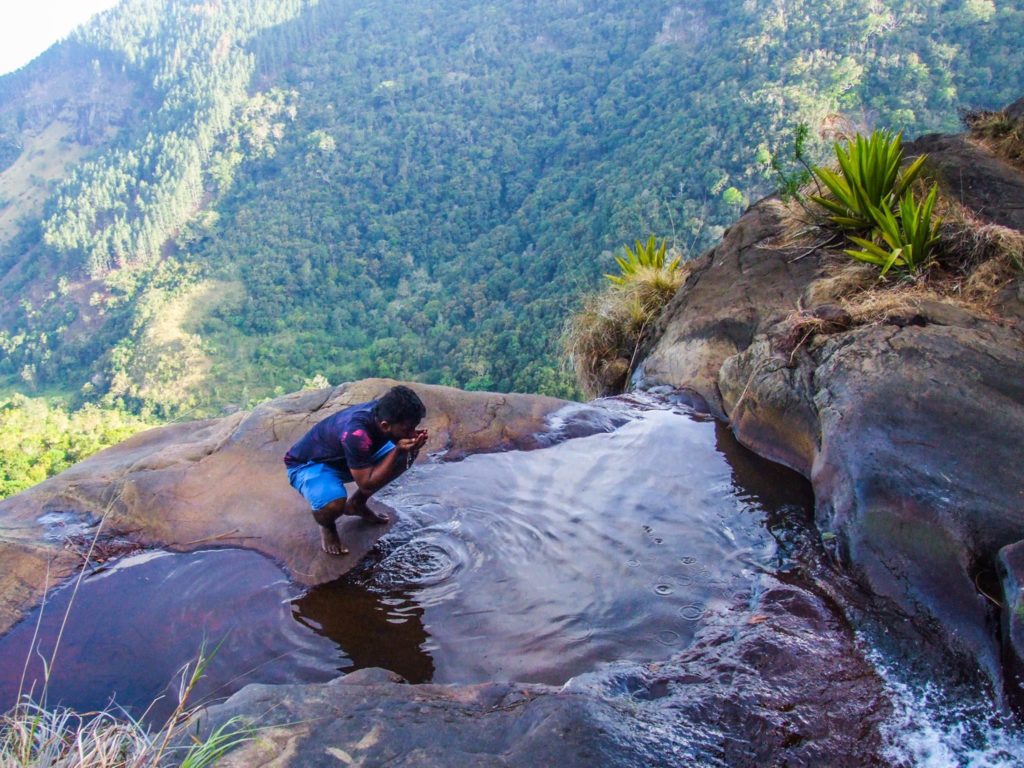 Ceylon Tea Factory
When you visit Ella or Sri Lanka for that matter taking a tour through one of the Tea factories is a must. Sri Lanka is so famous for tea which is exported all around the globe.
The Ceylon Tea Factory is located in Ambagollapathana, 4 Passara Road, Ella. If you take this tour you can witness the process from picking the tea leaves to tasting the very tea you have seen on the plantation.
Pahanthudawa Ella – (StarGate)
This breathtaking waterfall is a branch of the reservoir of Belihuloya. The name "Pahanthudawa" derives from the shape of the waters which fall looking like a lamp's wick.
Pahanthudawa was the first stop we took from the Colombo starting point. Be sure to constantly check the google maps so you wouldn't take a wrong turn.
I am not quite sure who owns the road that leads to the waterfall. But you need to descend from the front side of a hotel in order to get to the Pahanthudawa ella. The hotel has a huge parking space, but you wouldn't have permission to park your car and visit the waterfall. Needless to say, you should buy at least Plain tea from the hotel to park your car.
The adventurous path which leads to the waterfall eventually reveals the astounding view of Pahanthudawa Ella. The place is completely secluded from the outer world which heightens its beauty. This unearthly waterfall leads us to think of this place as a StarGate. It is far from our comprehension how this place was even created.
Next time don't ask yourself, "why Sri Lanka"? Instead, add this place to your bucket list to be mind blown.
Tip – You can dodge large groups of travelers by avoiding, visiting this place on long weekends and weekends.
Nine Arch Bridge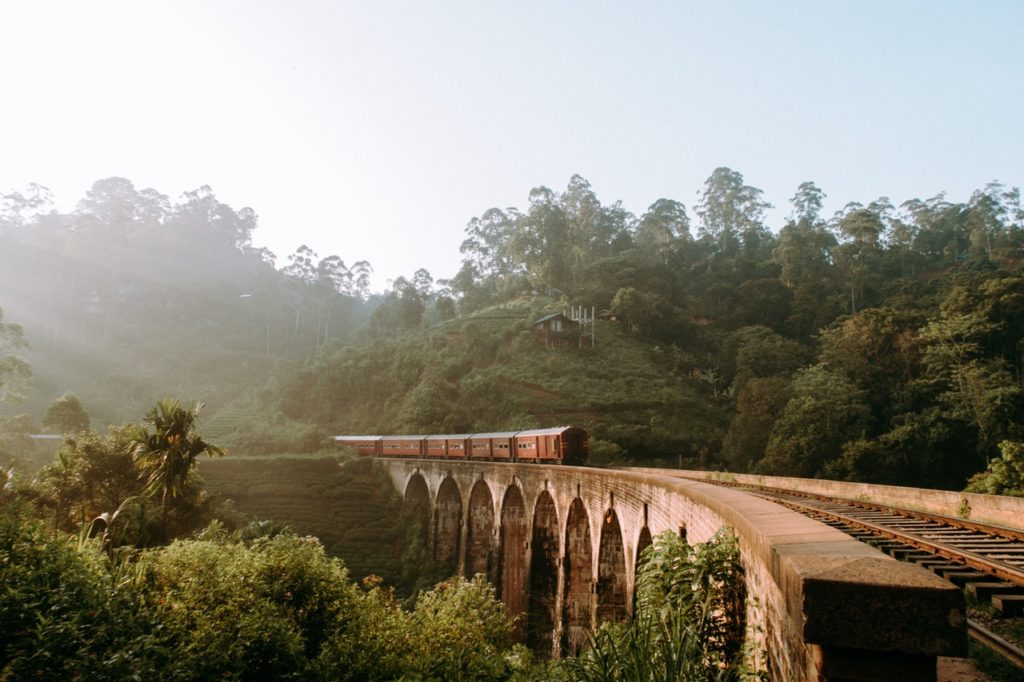 Nine Arch Bridge is a fine example of the Sri Lankan colonial-era railway construction. Nine Arch Bridge or the Bridge in the Sky's amazing structure was built by P. K. Appuhami with the help of the British engineers. This viaduct is a popular tourist attraction.
This may sound somewhat contradicting the popular notion. But, I personally believe that it is overrated. Of course, it has a vast architectural history and an effort behind it but the place has changed drastically since the whole tourism industry was concentrated on the area. The greenery was unbelievable with clustered trees and lack of civilization.
I suppose the most of its fascination comes from its resemblance to the viaduct we saw in the movie Harry Potter.
Because of the crowd I lost my chance to appreciate the beauty and the historic value in it. The place is oversaturated with three wheelers (Tuk Tuks) and over civilized with local houses and hotels.
Despite all the drawbacks, it is an instagram worthy destination. With or without the tourists hanging around, you can definitely capture some amazing pictures. Visit this place on a weekday to have some space.
Tip – Near the bridge there is a nice resort called 98 Acres Resort & Spa. It is considered as the best Resort in Ella where you can enjoy a breakfast buffet with the astonishing view of the Little Adam's Peak. The flip side to this place is that it is a bit pricier. Yai! For you if you can afford it!
Little Adam's Peak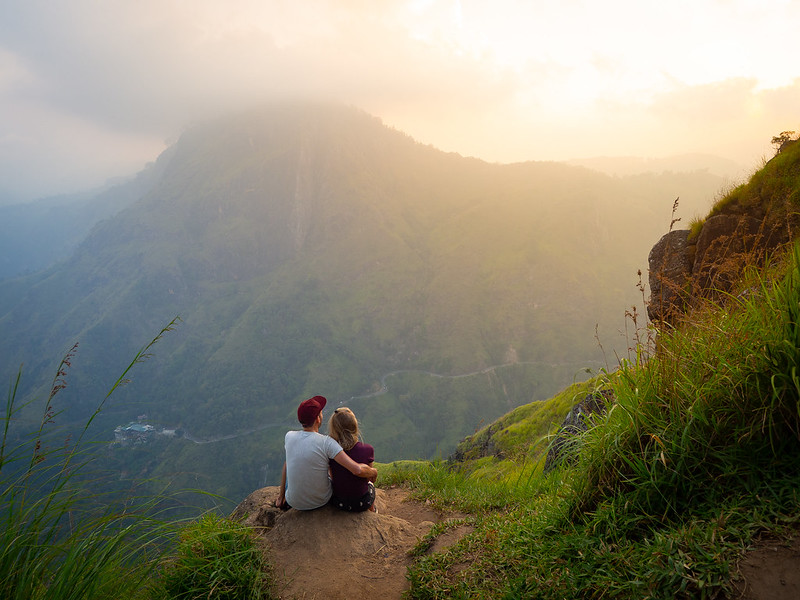 Instead of asking why Sri Lanka, try this one of the most popular hikes in the country to prove the point. Don't confuse the Little Adam's Peak with the Adam's Peak in Hatton because it is such a strenuous hike to the top which is masked with a body piercing cold weather.
This hike is certainly not a walk in the park. But without a doubt anyone can climb it.
Get up early and take the hike to the Little Adam's Peak, Ella and witness the rejuvenating sunrise. Likewise, this is another great place to snap a couple of dozen creative pictures with its impeccable scenery.
Ravana Falls
Ravana Falls falls into the category of the widest falls in Sri Lanka. According to the legend, King Ravana who was the ruler of Sri Lanka at that time kidnapped the wife Sita of Indian prince Rama. He did this to avenge Rama and his brother for slicing off his sister's nose Surpanakha. Then he hid the princess in the caves behind the waterfall which is now known as the Ravana Ella Cave.
Regardless of the legend, excavators have found believable evidence proving human habitation which dates back to 25,000 years which is worth further studying.
This iconic waterfall is definitely a must-visit which is rich with historic value. The Falls can be viewed from the road as well if you are running late.
Nildiya Pokuna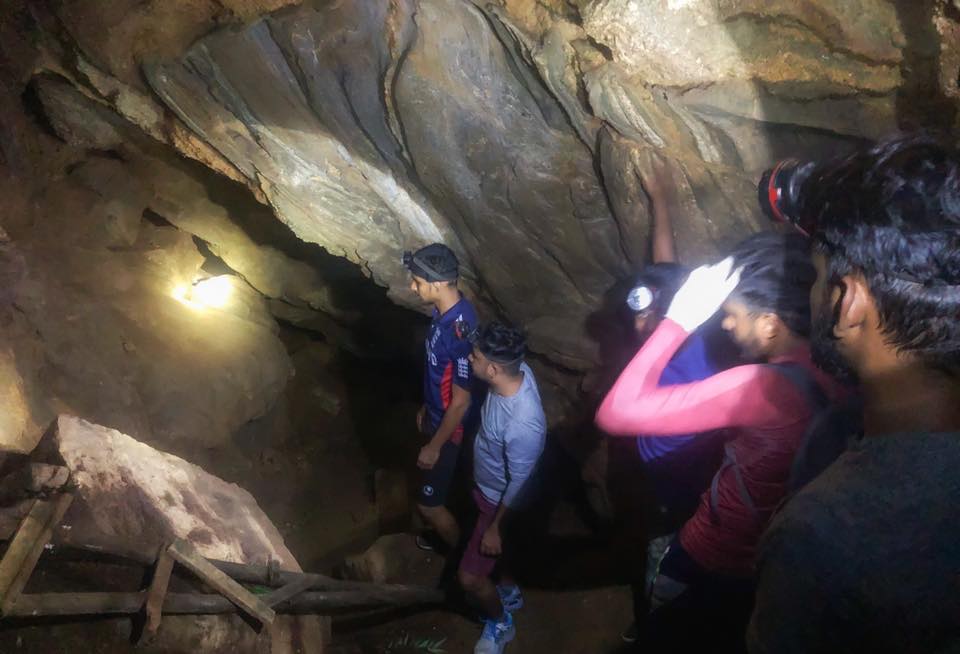 If you are a thrill seeker, then this is the perfect journey for you. The Nildiya Pokuna or translated into english as "The Bluewater Pond" is related to the aforementioned waterfall.
According to http://harithacharika.blogspot.com/2016/12/nil-diya-pokuna-exploration.html  allegedly, after kidnapping the princess Sita, King Rawana has hidden her in one of these caves. Being locked away inside a dark cave, which is far from getting any sunlight, princess Sita had developed a skin disease and lost her great complexion.  
After witnessing the hardships of Sita, the king, the great guy he was, ordered to build a cave way network therefore Sita can go places.
He also let the princess spend time in his Royal gardens and use the nearby waterfalls to bathe. These mountains of Ella-Karandagolla, is known to be the place where Sita was held captive although it is mentioned that he's never done anything to harm her.
It is believed that this mountain range has cave entrances which are spread across the area.
Another theory is that this pond was used by princess Sita for bathing. A further study of the Indian Epic "Ramayana" would paint a better picture of the whole story.
The pond contains inconceivably squeaky clean blue water. The mysterious underground pond is located inside this cave which is concealed away from the surface.
The pond is 500 meters deep underground and some would think it is an impossible task to get there.
The entrance for the cave is straight down. Therefore, it is mandatory to use a rope. After a few minutes there is a tunnel way you can stand and walk which is completely covered in Bat droppings. Needless to say, many people would be deeply disgusted. However, you might need to slide on the droppings because it can get slippery to the point you could lose your balance.
The next thing you discover is this ginormous hall like cave. Further following the path down, you will eventually reach the Nildiya Pokuna pond.
The pond has this magical appeal which is out of this world. You can have a swim if you need. You can also venture down to this room-like cave that is known to be used by princess Sita. But be extremely cautious if you decide to do so, as it is very dangerous and you need a lot of physical strength.
After returning to the surface, you will realize that this long and strenuous journey takes up almost 6 hours to complete.
It is no wonder that people are so intrigued about this mysterious location. That may be the reason why there is so much information regarding this place.
If you are familiar with the british adventure horror movie The Descent, it is the exact feeling I have experienced inside this gloomy but awesome cave. This cave is the epitome of horror, the isolation, danger and thrill. Sometimes, I almost felt like I was being watched by something that is lurking in the uncertain darkness. When people suggest traveling to other countries, asking why Sri Lanka? Show this destination and they will tag along with you.
Tip – DO NOT visit this place presuming that you can take on the challenge by yourself. Make sure to have company and especially a GUIDE who knows the area. These experienced guides will provide you with flashlights and other needed gear for your journey.
Ella Rock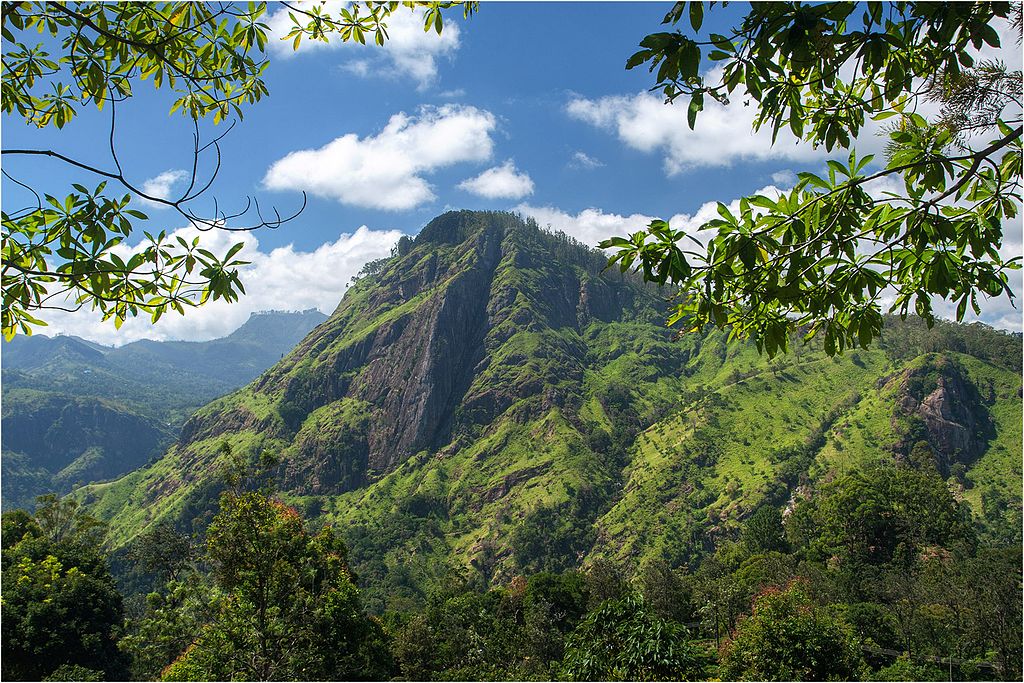 Ella Rock takes the lead on this list because it is unimpeachably the greatest place you can find in Ella. Period! This 4 hour trek up to the Ella mountain is filled with crossing tea plantations, railways and forests. You wouldn't need a guide to show you the way up to the top, however to avoid getting lost you can ask the directions from the villagers.
Ella rock can be even hiked with a small kid in your arms because it is not impossible. You just have to rest in between to regenerate your stamina and the strength. You can have a nice tea from one of the small shops on the way to the top to rejuvenate your body.
The first time I went to explore this amazing place, it was the dry season and the plants were a bit brown and withered by the heat. Although the greenery you have anticipated is not completely refreshing, the view from the peak of the mountain is drop dead gorgeous. The main advantage to hiking the Ella Rock in dry season is that the weather allows us to see the whole panoramic view.
Travelling in the rainy season is great for those who appreciate the wet and gloomy feeling around the area. But the downside is, the view from the top is completely blocked by the heavy mist. However, in the afternoon some of it can be cleared up which is not certain.
If the whole area is white there is no point in hiking the mountain because you should witness the view from your own eyes to believe the unblemished beauty of it.
But in the long run it is up to you to decide because unquestionably they are two completely different experiences.
Because Ella Rock gained a massive popularity in recent past years, the place is starting to get polluted. Therefore, please don't trash these beautiful sites, so they will be intact for the future.
Avoid holidays and weekends in order to save the serenity to yourselves.
Tip – The path to Ella rock is filled with leeches that want to cling to your legs and suck your blood. So, don't hike wearing flip-flops or sandals. Wear comfortable and secured shoes. Take some salt with you so you can put it on top of the leech that is stuck to your leg. Salt won't kill the leech but will remove it from you.
The Bottom line
The journey from Colombo to Ella is quite awesome. The Colombo to Ella train is considered as one of the best train experiences in the world. There are so many excellent places you can see along the road. You will never see the same thing twice.
If you are a solo traveller or a person travelling with their family by their own vehicle, the most viable option is to have your breakfast from a small restaurant along the way.
These shops are filled with great food especially Roti which are made on a heated stone and Plain tea that will keep you full for the rest of the day.
Ella is one remarkable place for anyone who seeks a placid vacation with their friends and families. You can foreplan your romantic getaway in Ella and have a memorable experience. There are so many budget friendly homestays and hotels you can check yourself into.
As I have mentioned repeatedly, try to avoid weekends when it will be so crowded. Ultimately it will ruin your chance to capture insta-worthy photographs.
Keep the aforesaid tips in mind and have a pleasant tour, so you can recommend these locations to others with proof why Sri Lanka and Ella is irreplaceable.
– Further researched and re-written by – Pivi Rathnasinghe